ITIL® 4
Featured products
In this showcase you will find a selection of training courses and exams in the ITIL® 4 context. If you are interested in ITIL® v3 certification courses and exams, please click here.
To look for a course or an exam specifically, you can use the "Search courses/exams prices" tool that you will find below.
If you do not see the course or exam you want, please contact us.
Shown

5

of 14
Page

1

of 3
Search courses/exams prices
ITIL® (Information Technology Infrastructure Library) is the most widespread and globally used framework for IT Service Management. It has undergone several changes over time since the first version of the late '80s to the version of the early 2000s, known as ITIL v2. Later ITIL v3 was the term frequently used for the 2007 update, which should be more correctly referred to as ITIL 2007. The later edition of ITIL was published in 2011 and, therefore, is referred to as ITIL 2011. Now, a new version of ITIL will be available: ITIL 4.
ITIL® 4 has been designed to help organizations meet the increasing demand from the current complex digital environment. The new scheme has been designed to be backwards compatible with ITIL v3 and streamlined to encourage conversion beyond ITIL Foundation level. Practitioner level, Intermediate level (ITIL® Service Lifecycle and ITIL® Service Capability) and ITIL® Managing Across Lifecycle level will be replaced new and more simplified modules. The ITIL® Expert level also will not exist anymore.
KEY BENEFITS OF ITIL 4
Improvement in IT services
Reduction of costs
Improvement in customer satisfaction due to a better approach to service delivery
Improvement in productivity
Better use of skills and experience
Improved supply of services compared to third parties
ITIL 4 CERTIFICATION SCHEME
The ITIL Qualification Scheme provides a modular approach to gain competences on the ITIL framework and is made up of a series of qualifications based on different aspects of ITIL Best Practice, with varying degrees of depth and detail.
The ITIL 4 Certification Scheme compromises of the following modules:
2019 © PeopleCert. All rights reserved.

There are four levels of qualification:
ITIL 4 Foundation is the entry level certification, offering end-learners a general awareness of the key elements, concepts and terminology used in ITIL 4.
ITIL 4 Foundation is aimed at entry level IT professionals, those who need a basic understanding of ITIL, or would like to progress to higher levels within the ITIL 4 certification scheme.
The purpose of this certification is to introduce candidates to modern IT-enabled service management.
ITIL Managing Professional (ITIL MP) targets IT practitioners working within technology and digital teams across businesses. The Managing Professional (MP) stream provides practical and technical knowledge about how to run successful IT projects, teams and workflows.
ITIL Managing Professional integrates three specialist modules (Create, Deliver & Support, Drive Stakeholder Value, and High Velocity IT) and the ITIL Strategist Direct, Plan & Improve module. All modules are valuable independently but all 4 must be completed to obtain the ITIL Managing Professional designation.
The ITIL Managing Professional modules mandates completion of ITIL 4 Foundation as a prerequisite.
After achieving the ITIL Managing Professional designation, if candidates are interested in pursuing the ITIL Strategic Leader stream, they would only need to complete the ITIL Leader Digital & Strategy module.
ITIL Strategic Leader stream recognises the value of ITIL, not just for IT Operations, but for all digitally enabled services. Becoming an ITIL Strategic Leader (ITIL SL) demonstrates that the professional has a clear understanding of how IT influences and directs business strategy.
ITIL Strategic Leader integrates the ITIL Strategist Direct, Plan & Improve and ITIL Leader Digital & IT Strategy module. Both modules are valuable independently, but both must be completed to obtain the ITIL Strategic Leader designation.
The ITIL Leader Digital & IT Strategy module mandates 3 years of managerial experience as a prerequisite along with completion of ITIL 4 Foundation.
ITIL Master
All candidates must start with ITIL Foundation for both ITIL Managing Professional and ITIL Strategic Leader to gain a basic understanding of the core concepts and principles of ITIL 4.
Candidates can then work towards becoming either an ITIL Managing Professional (ITIL MP) or an ITIL Strategic Leader (ITIL SL) by completing the relevant modules.
If candidates complete all 5 modules, gaining both designations from the two streams, they will be eligible for assessment to become an ITIL Master.
More details about ITIL Master will be announced later.
Furthermore, there is an additional module for the ones who have progressed through the old ITIL v3 certification scheme.
The ITIL Managing Professional Transition Module is designed for ITIL v3 candidates who are ITIL Experts or who have achieved 17 credits from across the v3 scheme. Candidates who will complete successfully this module will get the ITIL Managing Professional (ITIL MP) certification.
The transition module will cover the core elements from the ITIL Managing Professional stream. It will have a mandatory training and exam that will enable the candidates to transition from their existing certification to the new ITIL 4 certification scheme.
Click here for more information about the transition from ITIL® v3 to ITIL® 4.
ILEARN OFFER
The ITIL 4 courses are run by accredited ITIL teachers and they are designed based on solid experiences in the implementation of ITIL in IT organisations of all sizes and sectors.
iLEARN's ITIL 4 courses can be followed in different ways:
Classic

on pre-scheduled dates: traditional classroom training at iLEARN premises
in-house: traditional classroom training scheduled based on client needs and at customer's or iLEARN premises

Distant-learning: following a remote classroom by means of a webconference
E-learning: training provided through our online learning management system from anywhere and anytime
ONE-to-ONE: access to e-learning platform and interactive sessions via web-conference with the accredited teacher
USEFUL LINKS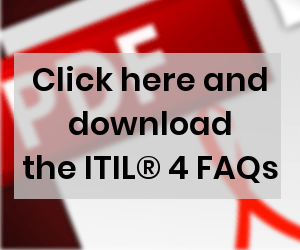 Thanks to the new App "iLEARN LMS", you can access your e-learning course from anywhere and at anytime you want on your mobile devices. Download it now!
Subcategories
ITIL 4 certification courses provided by iLEARN