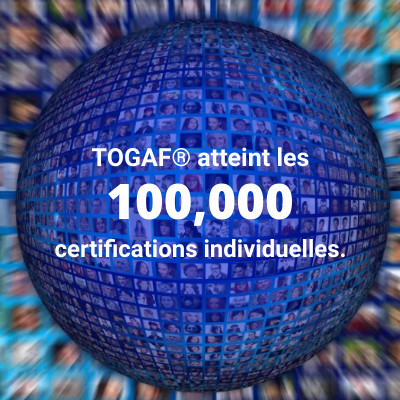 Copyright © The Open Group 2020
The Open Group est très heureux d'annoncer que le nombre de certifications individuelles dans le monde entier dans le programme de certification TOGAF® 9 a franchi le cap des 100,000.
TOGAF 9 est la certification approuvée, "vendor-neutral" et mondialement reconnue pour le référentiel TOGAF, la norme ouverte d'Architecture d'Entreprise utilisée par les plus grandes organisations du monde afin d'améliorer leur efficacité d'entreprise.
Pourquoi devriez-vous obtenir une certification TOGAF® 9?
La Certification TOGAF est amplement référencée dans le recturement et figure régulièrement dans les trois premières certifications dans le IT Skills & Certification Pay Index de Foote Partners LLC. En outre, des sondages montrent que les entreprises paient une prime de 8-13% pour les Architectes d'Entreprises Certifiés TOGAF en comparaison avec leurs contreparties non-certifiés.
Le programme de certification est véritablement global, avec des individus de 149 pays différents inclus dans le registre. Tout en étant bien établi aux USA et en Europe, le programme a connu une forte croissance en Asie plus récemment.
Comment obtenir une certification TOGAF® 9?
iLEARN - Innovative Learning est un Accredited Training Centre (ATC) de The Open Group. Vous trouverez plus d'informations sur nos formations en ligne et en salle en cliquant sur ce lien.
Pour plus d'informations sur The Open Group, cliquez ici.